TE Connectivity Raychem Heat Shrink Cable Boot (Angled Degree)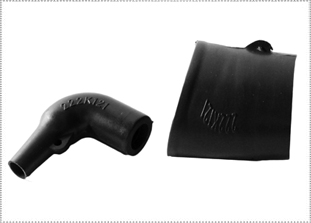 PROTECT YOUR CONNECTION FROM THE ELEMENTS
PEI-Genesis now offers TE Connectivity's Raychem heat-shrinkable molded parts. With adhesive coating, the molded Raychem heat shrink boot forms a watertight seal, protecting cables and equipment from harsh environments, corrosion and mechanical abuse while providing excellent electrical insulating properties.
Meeting requirements for most mass-transit, military, and commercial marine applications, TE Connectivity's Raychem brand molded parts include SSC end caps, heat shrink boot, and transitions, completing the bridge between sealed cable assemblies and connectors.
Whatever your application, the Raychem heat shrink boot and other molded parts will meet the performance characteristics you require, including:
Operation in low- and high-temperature environments
Mechanical strength
Resistance to fluids
Resistance to flame
Resistance to mechanical abuse
Environmental sealing
Strain relief
Contact PEI-Genesis to learn about our value-add kit, which includes a backshell and Raychem heat shrink boot.
Contact Your Local Sales Office