Quadrax Contacts & Quadrax Connectors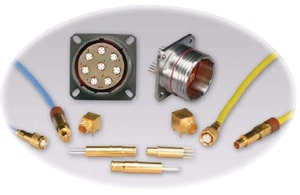 PEI-Genesis has an innovative approach to providing our customers with hundreds of unique Quadrax connectors, with delivery as quick as 1 day and with no minimums.
By keeping a large inventory of components and kitting your connectors to order, we can offer our customers the flexibility of using a wide range of connector/insert combinations. Depending on the application, we can select the correct connector, the right Quadrax contacts, and deliver a kit within 24 hours.
PEI-Genesis' large inventory of Quadrax contacts and connectors are especially important when used with the popular MIL-DTL-38999 connector line. PEI-Genesis has the largest Quadrax inventory in the world - and we kit the connectors from stock so we can ship you a complete system. In Comparison, most distributors require long lead times and impose mandatory minimum purchase quantities for these contacts and connectors.
High speed Quadrax contacts consist of an outer contact with four inner contacts spaced in two 100 or 150 Ohm controlled impedance differential pairs. Both contacts, when used in Amphenol MIL DTL-38999 Series III and ARINC type connectors, provide an excellent alternative for harsh environment applications such as:
Ethernet 100 Base-T-100 Ohm
Gigabit Ethernet 1000 Base-T-100 Ohm, 1000 Base-CX, 150 Ohm
Fibre Channel-150 Ohm, 1G/2G
IEEE1394B FireWire-110 Ohm
Serial FPDP Applications, 2.5Gbps
SCSCI-2, 3.2Gbps
Differential Twinax and Quadrax contact options include:
Quadrax Power Contacts
Crimp or printed circuit board termination
Established designs to accommodate a variety of cable types and gauges
Incorporation of Quadrax contacts into ground plane connectors
Ground Plane connectors have conductive inserts that ground the outer conductor of the contact to the
shell of the connector. They accommodate size 8 and 12 shielded contacts, of which the size 8 can be a Quadrax type.