TE Connectivity DEUTSCH Metal DTS Connectors MIL-DTL-38999 Series III / EN3645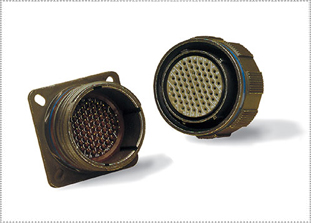 SEALED SELF-LOCKING CONNECTORS
TE Connectivity DEUTSCH MIL-DTL-38999 Series III / EN3645 Metal DTS connectors offer high density contact arrangements in a miniature metal circular connector. DEUTSCH DTS connectors were designed as military and aerospace components for harsh enviornments, and are now being used in many commercial applications requiring extremely reliable interconnections.
These TE DEUTSCH DTS connectors are quick-mating, environmentally-sealed, triple-lead threaded and offer 100% scoop-proof contacts. They are also EMI-RFI-shielded and have a self-locking coupling/ anti-decoupling ratchet for high vibration applications. A variety of D38999 backshells are available.
For full product details on TE Connectivity DEUTSCH EN3645 DTS connectors, please see the specifications below.