How do I log into MyPEI?
At the top of virtually every page is a LOGIN option (Just above the Part Number Search box).
Enter your username and password. Once you are logged a MY ACCOUNT option will appear giving you access to your account details, order tracking, and purchase history.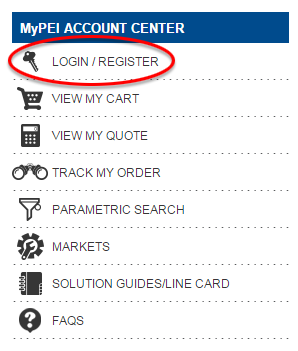 How is my username different from my company's trade Account Number (ASW ID)?
Your username and password are unique identifiers for you personally. When you create your username it is linked to a personal customer profile in our enterprise system.  That profile has a PEI-Genesis account number known as an "ASW Customer ID". Accounts created on the web site begin with the letter E (example: EPG293323). You can see your ID number after you have logged in by selecting the "MY ACCOUNT" option at the top of the screen, then choose "Edit My Profile" on the left menu. See "Where can I find my PEI-Genesis account number?".

Your company may also have a trade account with its own identifier. It normally does not use the E prefix and is typically a shorter number (example: P0112345). Your personal account may be "linked" to one or more of your company accounts.
Using your company's account you potentially have the ability to buy on open account and to use your company's preferences, pricing, terms, and shipping methods. To have your profile attached to your company's account, see the "Getting Started on MyPEI" Section above. Read "My company already has a PEI-Genesis Account. How can I purchase under my Company's PEI-Genesis Trade Account?". All accounts linked to your profile are visible when you use the option MY ACCOUNT and choose "Edit My Profile".
I have forgotten my password. What do I do?
Use the LOGIN option at the top of any screen. In the Sign In section choose "Forgot your password?" and follow the prompts. You will be asked to enter your username and email address (make sure that it is the same address that you initially registered with). We will send you an email with a token key and a web link. Follow the link to the MyPEI web site and paste the token into the field provided.  You will be allowed to set a new password on your account.

If you are still experiencing problems, please contact us at: [email protected] or call 800-523-0727 (001) 215673-0400 or in Europe at +44 (0) 844 871 6060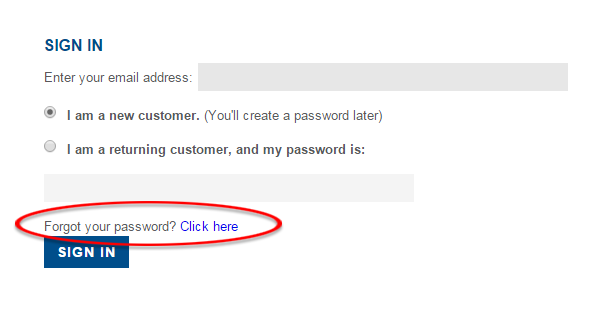 I have forgotten my username. What do I do?
Choose LOGIN at the top of any screen.  In the Sign in section, choose "Forgot your username?
You will be asked to enter your email address. We will then send your username to the email address on your account.