PEI-Genesis Continues to Expand Footprint Into APAC South
PEI Celebrates Opening of New Sales Office in Singapore
(Philadelphia, PA – February 2, 2023): PEI-Genesis, a global leader in the design and assembly of custom engineered interconnect solutions, expands into Southern Asia-Pacific to support local customers across the region. In late December 2022, PEI-Genesis celebrated opening a new sales office in Singapore.
A ribbon-cutting ceremony followed by a lion dance was held to mark this auspicious milestone. Members of PEI-Genesis leadership, including Steven Fisher, CEO, Alex Tsui, Vice President & Managing Director APAC, and Bernard Koh, Regional Sales Director of South Asia, attended the opening ceremony. At the same time, Trusted Advisors from PEI's Sales Departments in Singapore, Vietnam, Indonesia, and Thailand, representatives of the core account customers, and suppliers joined them to celebrate in Singapore.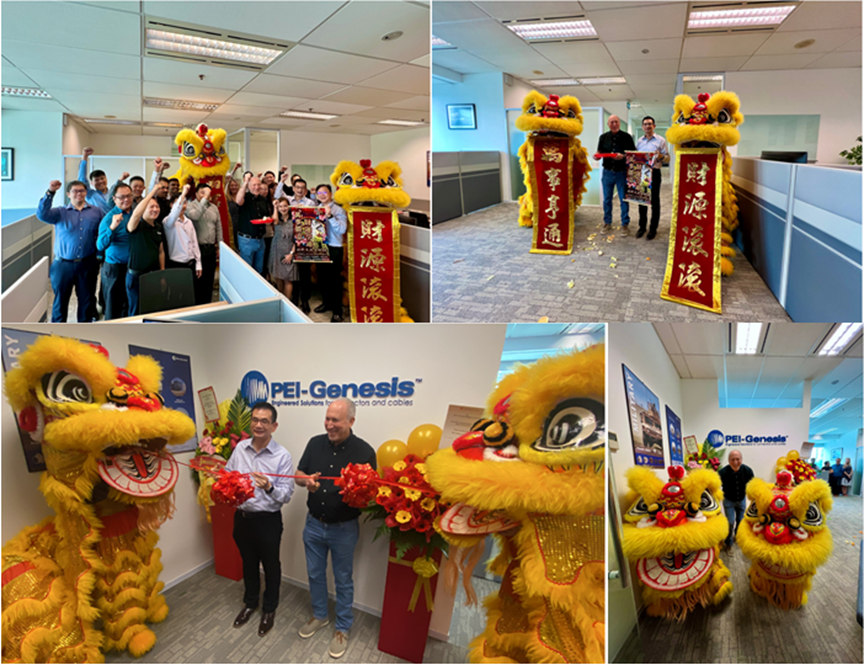 "We are continuously investing in more talent to engage closely with our local customers while also searching for new assembly sites to support Mil-Aero customers in the region. The establishment of the APAC South office has once again fulfilled PEI's promise to improve delivery speed, achieve good inventory management, and strengthen the professional service capabilities of the local team," says Alex Tsui, Vice President & Managing Director APAC.
In 2015, PEI-Genesis placed its first footprint in APAC, opening its Zhuhai, China production facility. Today, there are sales Trusted Advisors in 10 major APAC markets, including Japan, South Korea, mainland China, Hong Kong, Taiwan, India, Vietnam, Thailand, Indonesia, and now Singapore. Due to the COVID-19 pandemic, PEI-Genesis was unable to officiate a proper opening in October 2021, delaying it almost a year and a half later, now taking place in December 2022.
In addition to PEI's Trusted Advisors, the new office has a call center with technical engineering support to serve local customers more effectively.
About PEI-Genesis: PEI-Genesis is one of the world's fastest assemblers of interconnect solutions. From the largest connector component inventory in the world, they develop engineered solutions that support the military, industrial, medical, aerospace, transportation, and energy sectors worldwide. Headquartered in Philadelphia, PA, PEI-Genesis has production facilities in South Bend, IN; Southampton, UK; and Zhuhai, China as well as sales offices throughout the Americas, Europe, and Asia. More information may be found at www.peigenesis.com.