TE Connectivity RD1 Circular Connectors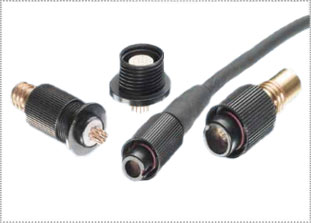 HIGHLY DURABLE AND LONG-LASTING CONNECTORS
The TE Connectivity RD1 circular connector series are designed for rugged durability and high-speed connectivity. These connectors are IP67 sealed and EU RoHS compliant, and they can withstand up to 2,000 mating cycles and an operating temperature of -55 °C to +150 °C. These circular RD1 connectors feature flexible coupling styles, lightweight aluminum shell, and minimal materials to save space and weight for applications where size is a concern.
The RD1 connector meets the demands of high performance with quick push/pull disconnect coupling that meets a breakaway force of 13 ±3 lbf. This rugged small circular connector meets mechanical and environmental performance requirements of MIL-STD-810G, and are intermateable with Nett Warriorproducts.
The metal shell and high-performance materials built to create the RD1 connector series, combined with the 12-position circular connector receptacle, make it an ideal application for a wide range of applications including aerospace, military, marine and commercial, including communication hubs, power hubs, radios, vehicles, antennas, batteries and solder vest cables.