AMPLIMITE HD-20/22 D-Sub Connectors by TE Connectivity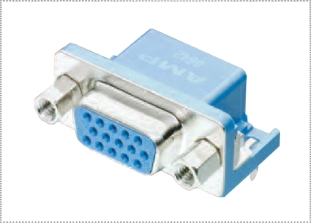 RUGGED I/O D-SUB AMPLIMITE D-Sub CONNECTORS
TE Connectivity AMPLIMITE D-subminiature connectors are a rugged and extremely popular I/O (input/output) connector family used for serial communications, telecom and LAN (local area networks) and are qualified to the MIL-DTL-24308 specification.
Standard AMPLIMITE D-sub connectors are available in two series: HD-20, which is a standard density D-sub with size 20 contacts, and HD-22, a high-density d-sub with size 22 contacts. Each AMPLIMITE D-sub connector series offers 5 different shell sizes, and the shields mate before the contacts. Also available is the .050 Series, which are compact and reliable AMPLIMITE connectors featuring a high-density D-type interface and offering excellent EMI/RFI protection/shielding.
These compact pin and socket connectors feature .050 x .100 [1.27 x 2.54] contact centerline spacing, .050 AMPLIMITE D-sub connectors are available in 20 through 120 positions and is also compatible with SCSI-2, SCSI-3, EIA RS-232, ISO-11569 (for 26-position cable assembly with spring latches), HIPPI, IPI-2 and IEE 802.3 MIL standards.