TE Connectivity Microminiature HDSM Microdot Connectors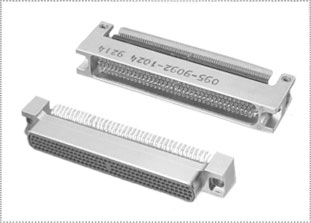 HIGH-DENSITY, LOW ENGAGEMENT FORCE CONNECTORS
TE Connectivity High-Density Standard Model (HDSM) Microdot connectors are designed for four-row .50 (1.27) pitch density with a low force twist pin that meets all requirements of MIL-DTL-55302 and MIL-DTL-83513. These high-density Microdot connectors comprise a complete contact system that is adaptable to a variety of form factors.
Low engaging force is achieved by the manner in which the twist pin contacts are designed. By constructing the male contact as a breathing helical spring, electrical contact is achieved at many points around the periphery of the pin bundle rather than at a few discrete points, as in conventional pin designs.
The HDSM Microdot connectors are designed for surface mounting on both the daughterboard and motherboard for increased circuit density. Their design is especially well-suited for harsh external conditions with a temperature range of -55° C to +125° C and the ability to withstand 500 mating cycles with no electrical or mechanical defects. With a highly reliable twist pin and socket, HDSM Microdot connectors meet the demands of various markets, including military, space, downhole offshore oil and gas, geophysical exploration, commercial satellites and commercial aerospace.
Microminiature HDSM Microdot Connector Features and Benefits:
Adaptable to a numerous variety of form factors
Low engaging force is achieved by the manner in which Twist Pin Contacts are designed
The metal shell and plastic shell are available with solder cup and solid or stranded wire terminations
Mating force maximum is 10 oz. [2.78N] times the number of contacts
Durability — No known mechanical or electrical issues detrimental to the function of the connectors after 500 cycles of mating and unmating
Current Rating — 3 amps max per contact