TE Connectivity Raychem Feedthrough Connector Seals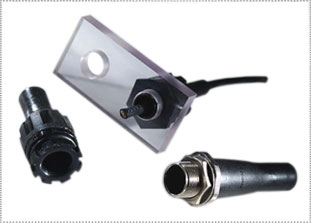 WATERTIGHT & HEAT-SHRINKABLE SEALS
TE Connectivity Raychem feedthrough connector seals provide watertight, environmental sealing, and heat-shrinkable solutions where cables enter connection boxes, bulkheads or other enclosures. They are available in two basic types: standard and NPT threaded, with both types able to accommodate single or multiple cables up to 2.5 inches in diameter.
These feedthrough connector seals offer a range of benefits including strain relief, EMI protection, moisture sealing and multi-leg breakouts, and they are heat-shrinkable for long-term sealing. Installing our feedthroughs is simple and easy: Simply tighten the locknut on the rear of the bulkhead. This compresses the O-ring; a small knife-edge establishes electrical contact between the assembly and the bulkhead.
TE Connectivity Raychem feedthrough connector seals are high-performing, offering strain relief, NPT capacity and fume tight cable entry. Versatility is another benefit, with metal or nylon locknuts, multi-leg breakouts and standard or threaded types to meet specific requirements. These feedthrough connector seals are the preferred option for cable penetration and bulkhead penetration applications including panels, junction boxes, and sealed cabinets.
TE Connectivity Raychem Feedthrough Connector Seal Features and Benefits:
Strain relief
Heat-shrinkable
Grounding and bonding
EMI protection
Moisture sealing
Metal or plastic bodies
Multi leg-breakouts
Pre-installed adhesive
Available in right angle
Prevents plastic creep for long term sealing