TE Connectivity Raychem SolderSleeve Shield Terminator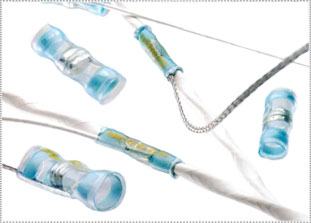 HIGH-PERFORMANCE, HIGH-TEMPERATURE SOLDERSLEEVE SHIELD TERMINATORS
TE Connectivity Raychem SolderSleeve shield terminators are designed to provide environmentally sealed, insulated and encapsulated solder connection for a variety of applications with temperatures ranging from -65 °C to 200 °C.
Raychem shield terminators are economical, offering a one-piece design, simplified installation time and cost and a bi-alloy or thermochromic temperature indicator that simplifies training. These shield terminators are offered in various sizes and configurations, with the capability to operate with strain-relieved termination. The heat-shrinkable sleeve provides insulation and withstands high temperatures and sealing inserts help ensure reliable environmental protection.
TE Connectivity Raychem shield terminators are the preferred option for cable harnessing and repair applications, including maintenance repair operations, commercial aviation, military aerospace, ground defense, and automotive after-market.
TE Connectivity Raychem Shield Terminator Features and Benefits:
Shield Termination
One piece design
Optional preinstalled ground leads
M83519/1 & M83519/2 Mil Spec approved
Small size, light weight
Encapsulation
Inspectability
Strain relief
Insulation
Controlled soldering process