TE Connectivity Miscellaneous Molded Parts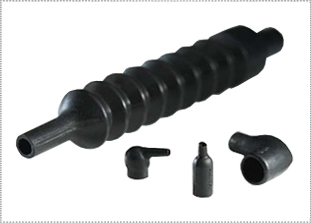 DURABLE AND HEAT-SHRINKABLE MOLDED COMPONENTS
TE Connectivity's Raychem heat-shrinkable molded parts offer the flexibility and toughness needed for electrical insulation, strain-relief, environmental sealing and flame resistance. The molded parts provide a sealant coat that is heat-activated, offering needed durability for secure connections.
TE Connectivity heat shrink products are supplied in this expanded form in easy installation kits. When installers heat the products up again beyond the crystalline melting point, with a gas torch or hot air gun, the products shrink back to their original shape. This elastic memory remains in effect for the entire lifetime of the product allowing an unlimited shelf life under specific storage and warehouse conditions. As the polymeric materials shrink during installation, they also build up high pressure creating superb sealing and electrical behavior.
Featuring a secure environmental seal and an optional IP67 adhesive lining, TE Connectivity's Raychem molded parts meet a range of environmental requirements. They are able to withstand temperatures as low as -55℃ and up to +135℃, are resistant to hydrocarbon and are well-suited for rail and military applications.
TE Connectivity's Raychem heat-shrinking molded parts provide durable and secure protection. They are matched to circuit operating environments, reinstate original performance, vibration dampening, heat-shrinkable, fluid-resistant and temperature resistant. They are the ideal solution for harness and electrical assemblies in a variety of environments and applications.
Contact PEI-Genesis to learn about TE Connectivity's Raychem heat-shrinkable molded parts.