TE Connectivity RF VITA Blind Mate Connectors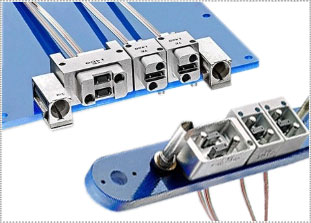 HIGH-DENSITY, OPTICAL-BACKPLANE CONNECTORS
TE Connectivity's RF VITA connector series provide high-density, blind-mate optical interconnects in a backplane/daughtercard configuration that is compliant to ANSI/VITA standard. They are designed for rugged embedded computing applications, and the optical modules are compatible with VPX and other high-performance standards. They can also be used in custom platforms and as stand-alone mating connectors. These RF VITA connectors are compliant with EU RoHS and EU ELV standards as well.
RF VITA modules are designed to be mounted to either a printed circuit board or panel using a specific mounting pattern and using hardware (not supplied) to attach the modules. VITA 67 products support VPX embedded computing architecture and allow RF signals transmitted from plug-in computing modules to a common backplane.
The RF VITA connectors provide a protective cover that is made of anti-static stainless steel material, and the mounting screws contain a pre-applied anti-vibration material. They also can withstand harsh environments with an operating temperature range of -20° C to 85° C and an extended lifespan that can handle 100 mating cycles. The high-performance RF VITA connector series is an ideal solution for industrial and commercial applications.