Trolex Falcon Explosion-Proof Connectors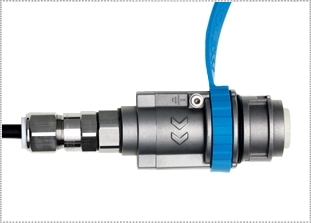 ROBUST, EXPLOSION-PROOF, MULTI-PIN EX CONNECTORS FOR USE IN HAZARDOUS AREAS
The Falcon Series Connectors from Trolex have been engineered to provide the most robust and easy to use connection system in heavy-duty environments for power and data cables. The TX3706 Falcon 25 series EX connector from Trolex exemplifies this by being nominated at the Hazardex 2018 Awards for Excellence in the Best User Application category.
These explosion-proof bayonet Trolex connectors allow for fast mating and de-mating - just push the two halves together and tighten the fasteners. The smart design of these Trolex connectors allows for disconnect with live power during an equipment change-out or maintenance. ATEX and IECEx certified Trolex connectors are also very easy to terminate, making them an ideal choice for mining, process plants, offshore, oil and gas, and other hazardous industrial applications.
Key Features:
In-built ingress protection caps are permanently attached and ready to hand. Integrated resilient fender for impact protection.
Passivated silver-plated contact Pins suitable for solder or crimp connections.
Precision investment-cast and machined Plug (3a)/ Receptacle (3b) in aluminum or stainless steel. Sealed for IP66 ingress protection.
Internal earth connection permits the use of non-armored cable.
Cable entries are certified for use with most types of compatible Ex approved cable glands. Rear loading with screw fastenings makes for simple and fast cable termination accommodating both compression and standard sealed glands.
Available in aluminum and stainless steel housing and in two body shell sizes.
View the Falcon 25 Connector Demonstration
View the Falcon Series Video