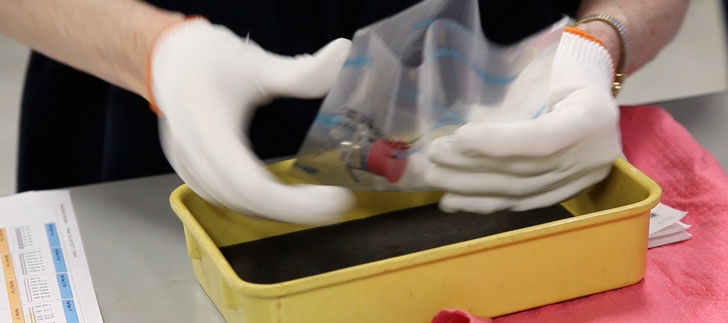 CUSTOM PACKAGING & KITTING
We don't just customize connectors – we can also customize your packaging, production-ready assembly kits, marking and labeling so that your final deliverables meet your specific needs. You just tell us what you need, and we'll deliver.
CUSTOM PACKAGING
The right packaging can protect or even extend the life of a part or give you an opportunity to make a good first impression. We deliver custom packaging for a variety of uses at the individual unit level.
Military packaging
Custom-branded packaging at the individual bag level
Anti-static packaging for ESD-sensitive (electrostatic discharge) devices
Protective caps/vials for assemblies containing PC tail contacts
CUSTOM KITTING
Even if you're ordering parts from different manufacturers, there's no need for you to sort, reorganize and re-bag parts on your end. We offer custom production-ready kitting of parts so that you can get the exact combinations you need.
Custom kitting of components
CUSTOM BAR CODING, MARKING & LABELING
We can deliver custom bar coding and labels for easy identification to help to ease receiving, stocking and deployment/use at your location or for branding purposes.
1D and 2D bar coding capabilities
Custom labels/barcodes per your specification
Company logos on labels/barcodes
OTHER SPECIALTY SERVICES
In addition to kitting, packaging, bar coding and labeling, PEI-Genesis can also provide a variety of other services and solutions to meet your specifications.
PPAP (Production Part Approval Process)
Hand-written C of C's (Certificate of Conformance)
Detailed report of connector outgas process
Selective loading of contacts on custom assemblies
Custom assemblies - both connectors and harnesses
Want to learn more about our custom services and offerings? Contact your local sales branch. Have a technical question? Contact our engineering team at the phone numbers below, email us at [email protected] or submit an online request.
AMERICAS, ASIA, AFRICA:

Weekdays 8:30am – 5:00pm EST
1-800-675-1214
+1 215-673-0400

EMEA:

Weekdays 8:30am – 5:00pm GMT
+44 (0) 23 8062 1260
+44 (0) 844 871 6060

WOULD YOU LIKE TO TALK TO A PEI EXPERT?

To begin your request, please insert your email address in the box below or simply give us a call.

In the Americas, Asia & Africa; Call 1-800-675-1214 or 1-215-673-0400, weekdays 8:30AM-5:00PM EST (GMT -5).

In the EMEA; Call +44 (0)2380 621260, weekdays 8:30AM-5:00PM (GMT).