Amphenol Air LB SIM EN4165 Modular Connectors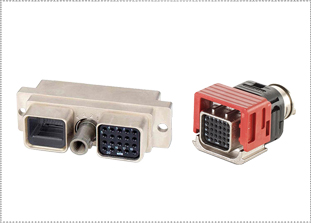 The Amphenol Air LB France SIM Monomodule connectors (Modular Interconnection System) are a scoop-proof, modular, rectangular, multicontact, and multifunctional EN4165 connector solution, supporting advanced signal and power requirements at a fraction of the space.
Available in metallic or composite versions, shielded or not, this Amphenol Air LB SIM connector is qualified according to the EN 4165 spec.
The Amphenol Air LB SIM EN4165 push-pull connector consists of standard or flanged mount receptacles that can be assembled side by side on a panel, standard or rack and panel plugs, easily removable click-in modules. These Amphenol Air LB SIM EN4165 connectors are perfect when space is limited and are ideally suited for power, commercial, and military aviation applications like In-Flight Entertainment Systems, Cabin Service Systems, and other interconnect system requirements. Especially suited for applications where shielding is mandatory.