Amphenol Alden Pulse-Lok Medical Connectors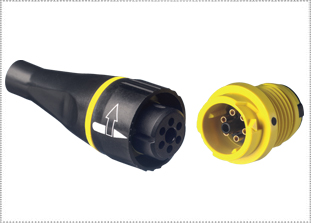 AMPHENOL ALDEN CONNECTOR COUPLING SYSTEM CREATES SECURE CONNECTIONS FOR MEDICAL APPLICATIONS
Lighter and more cost-effective than traditional circular metal connectors, Amphenol Alden connectors (Pulse-Lok) have a unique locking coupling system with visual, tactile, and audible confirmation for secure connections as well as quick-release action.
Unlike traditional push-pull connectors, whose latch mechanism may increase the mating and unmating forces of the connector, Amphenol Alden's coupler contributes almost no additional force to the mating process. Once engaged, the retention features assure you of a safe, secure connection that protects against disengagement due to unintended pull on the cable.
These Amphenol Alden connectors are excellent for medical, factory automation, and instrumentation field applications. Many contact types are available, including signal, power, high-voltage, and Ethernet. For full product features on Amphenol Alden connectors, please see the specifications below.