Amphenol Ruggedized Ethernet Connectors (Pulse-Net)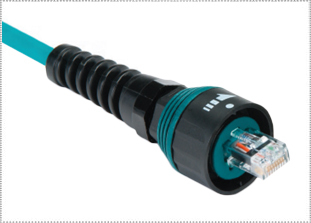 ETHERNET CONNECTORS FOR HARSH AND DEMANDING ENVIRONMENTS
Pulse-Net® are ruggedized Amphenol Ethernet connectors that offer the convenience and functionality of a standard RJ45 connector plus push & click, Pulse-Lok® mating action for positive confirmation of engagement, industry standard components and termination tools, and multiple termination options.
Pulse-Net Ethernet Connector Features and Benefits:
Pulse-Lok®, Quick-Lok mating action
Positive mating feedback confirms continuity
Blind mate with polarized key
Environmentally sealed to IP67
Stands up to mechanical stress
Optional EMI/RFI shielding
Accepts a variety of standard RJ45 components
Compatible with a variety of standard cable types
Amphenol ruggedized Pulse-Net ethernet connectors are the connector of choice to protect critical data transmissions and collection. Standard jack and plug Category 5e and Category 6 components are packaged in a harsh environment interconnect system that provides audible, tactile, and visual mating confirmation with mechanical cable strain relief plug protection.