Amphenol USBBFTV Series RJ Field Connectors (USB-B)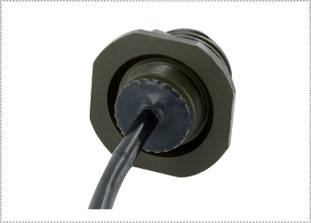 TWO USER-DEFINED POLARIZATION POSSIBILITIES FOR USB-B 2.0
Amphenol USBBFTV (USB-B) series RF field connectors allow for the use of a USB-B 2.0 data connection in harsh environments over twisted-pair networks (Amphenol USBBFTV Series RJ Field Connectors). The USBBFTV series RJ Field connectors are metal circular connectors that use a Tri-Start Thread coupling mechanism (MIL-DTL-38999 series III-type) with anti-decoupling device. The USBBFTV series allows for two mechanical coding/polarization possibilities to be defined by the user.
These connectors are excellent for harsh conditions, , in robotics, military data hubs, special machines, welding machines, communications, CNC, motion control and diagnostics applications. The USBBFTV Series of connectors also support data transmission rates up to 480 Mb/s for high speeds.
The Amphenol USBBFTV (USB-B) series' RJStop® connection system protects from shock, dust and fluid (IP68 Rating). No hazardous on-field cabling and grounding required!