Amphenol M12 LTW RJ45 Water-resistant Ethernet Adapters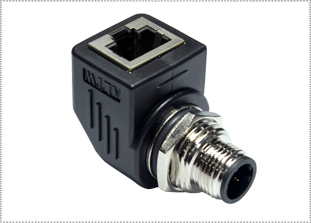 IP67 RATED WATER-RESISTANT INDUSTRIAL ETHERNET ADAPTERS
Amphenol M12 LTW RJ45 Adapters are IP67 rated for water resistance. Amphenol M12 connectors are a cost-effective alternative to RJ45 connectors, making the need for cross-adaptation more common.
Amphenol's M12 4-Pin plug connector with D-coding has already been defined as an Industrial Ethernet standard according to IEC 61076–2–101. M12 connection technology is well established in sensor–actuator and fieldbus cabling and provides several advantages in industrial environments.
This LTW adapter offers a shielded RJ45 jack and a bulkhead-style Amphenol M12 connector, and supports 10Base - T and 100Base - Tx Ethernet connections. This Amphenol M12 adapter can be mounted on panel boards, are easy to install/uninstall, and common applications include sensor-actuator and field bus cabling as well as industrial applications in challenging environments. They can also be connected to non-waterproof conventional pre-terminated RJ45 plugs.