Amphenol Martec D38999 Hermetic Connectors
Perfect Connections for Mission Critical Applications.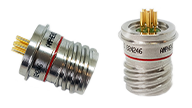 Martec provides interconnection solutions from concept to supply. They design and develop custom solutions, to meet the most stringent requirements for aerospace, automotive, marine, medical and offshore applications. (including military standards: MIL-DTL and ESC 10). Amphenol® Tri-Start MIL-DTL-38999 Series III connectors offer the highest performance capabilities for both general duty and severe environment applications meeting or exceeding MIL-DTL-38999 Series III requirements. Originally designed for the harshest of environments and most demanding of applications, Amphenol MIL-DTL-38999 Series III, Tri-Start connectors continue to evolve in pace with the needs of an ever-changing market.

Amphenol® also offers the JT, LJT and SJT Series. The JT and SJT Series are subminiature cylindrical connectors that are qualified to MIL-DTL-38999 Series II. SJT connectors combine unique design features of the scoop-proof LJT Series within standard mounting dimensions of JT types. Available in a wide range of shell sizes, finishes, insert arrangements and accessories.