Amphenol PPS Connectors (Push-Pull Series)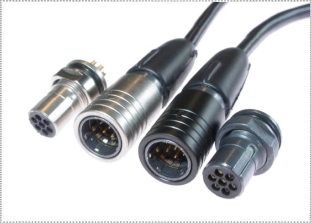 FULLY-SUBMERSIBLE MINIATURE CONNECTOR
Amphenol PPS connectors with Push-Pull technology and RoHS compliant. It is designed for use on equipment that is not submersed or left exposed to the elements for prolonged periods. To mate, the plug is pushed onto the receptacle. The connector is locked in its rest position and is released by pulling back the coupling nut.
The PPS has a small outside diameter and several inserts are available, including high-density insert arrangements. The plugs can be fitted with EMC grounding fingers for increased screening effectiveness.
The plug has a black silver body and backshell with a black coupling nut. Other plating finishes available are electroless nickel and both are chemical and NBC resistant. Receptacles are available in black silver plating as standard and electroless nickel.