Amphenol PowerLok Connectors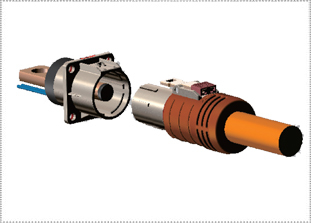 ROBUST EV/HEV CONNECTORS
These circular Amphenol PowerLok connectors are compact, robust, fully shielded, and feature the latest in RADSOK® contact technology, making them suitable for heavy equipment, power, and transportation applications up to 1000V ranging from 70A-500A.
RADSOK® socket and contact construction creates ideal pressure over a larger portion of the mating surface for lower contact resistance. In addition to a reliable RADSOK® connection, this Amphenol PowerLok series also comes equipped with a secondary lock to prevent unintentional disconnect. Amphenol PowerLok connectors are RoHS compliant, scoop-proof, and seal to IP67 when mated.
Amphenol PowerLok connectors are ideal for use in power distribution and energy storage, as well as transportation applications such as electric (EV) and hybrid electric vehicles.