Amphenol NEXUS Plug and Jack Breakaway Connectors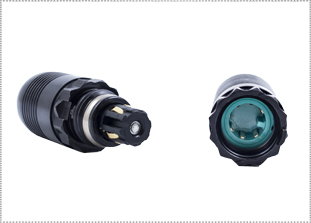 7 AND 10-PIN WATERPROOF BREAKAWAY CONNECTORS
Amphenol Nexus Technologies' plug and jack breakaway connectors are designed to deliver performance in the toughest environments. These Amphenol breakaway connectors are watertight in up to six feet of water and feature molded-in wiping-action contacts providing self-cleaning and eliminates issues with pin/socket open contacts, making these connectors ideal for C4I systems, military vehicles, commercial aircraft, telecommunications, medical equipment, commercial and industrial equipment.
They are available in 7 or 10-pin contact options with either a solder-type or insulation-piercing design. Miniature versions of these breakaway connectors are 50% smaller than standard connectors but deliver the same high performance, making them suitable options for demanding environments where weight and space need to be saved.
Amphenol NEXUS plug and jack breakaway attributes include: quick-release connectors/quick-disconnect connectors, 2 amps maximum per contact, Standard version up to 5,000 mating cycles , 3,000 mating cycles for miniaturized versions, panel-mount plugs and receptacles are available.