Anderson Power Products™ SB® 175 Multipole Power Connector (Up To 280 Amps)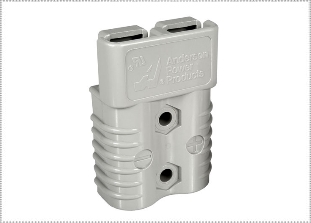 SB® 175 CONNECTOR
The innovative Anderson Power Products™ SB® 175 connector provide cost-effective reliability, design flexibility and safety for your products' manufacture, installation and maintenance.
SB® connectors feature a rugged one piece plastic housing using stainless steel springs to retain the contacts and create the "contact force" that provides extremely low resistance enabling greater electrical efficiency. The SB® connectors are also genderless, reducing overall cost.
Anderson Power Product's 2 & 3 pole connectors are available with a 175 amp rating, 600 Volts continuous AC or DC operation. There are Anderson Power Products™ SB® 175 connectors for many applications and wire sizes, #4 to 1/0 AWG (21.1 to 53.5mm2). Mechanical keys ensure that this Anderson Power Products™ SB® 175 connector series will only mate with connectors of the same color. Different color housings are selected to identify voltages, thus preventing mismatching of the power supply system.
SB® 175 Multipole Connector Features:
Standard housing uses up to 1/0 (50mm2) wire and allows currents up to 280 amps
SB® 2/0 housing allow s use of 2/0 (70mm2) wire and handles up to 340 amps
Same external dimensions as standard SB®175 and completely inter-mateable
UL rated for Hot Plugging up to 100 amps
Chemical resistant housing option - Extends temperature range down to -40°C, while offering enhanced UV and chemical resistance
Wire and Busbar Contacts - Allows one connection system to meet multiple application needs