Anderson SB 50 Multipole Power Connectors (Up To 120 Amps)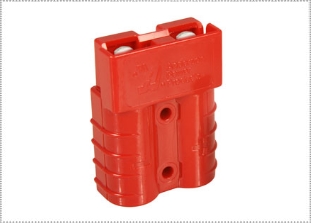 SB® 50 MULTIPOLE CONNECTOR
(UP TO 120 AMPS)
The innovative Anderson SB 50 connectors provide cost-effective reliability, design flexibility and safety for your products' manufacture, installation and maintenance.
APP's 2 pole connector is available with a 50 amp rating, 600 Volts continuous AC or DC operation. There are Anderson SB 50 connectors for many applications and wire sizes, #6 to #16 AWG (13.3 to 1.3 mm2). Mechanical keys ensure that these Anderson SB 50 connectors will only mate with connectors of the same color. Different color housings are selected to identify voltages, thus preventing mismatching of the power supply system.
Anderson SB Connector Features:
Low resistance silver or tin plated copper contacts - allows UL rated currents up to 120 amps
UL rated for hot plugging up to 50 amps - Great for battery or other applications where the ability to interrupt circuits is required
Chemical resistant housings available
Wire, PCB, and busbar contacts - allows one connection system to meet multiple needs
Learn more about how these Anderson SB 50 multipole connectors are supporting the growing demand of robotics-focused operations by checking out our blog post called: "PEI-Genesis: Supporting Next Generation Engineers".