Anderson Power Products Power Drawer Connectors (Up To 75 Amps)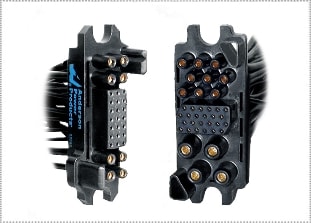 HEAVY DUTY POWER DRAWER® CONNECTOR
(UP TO 75 AMPS)
Anderson Power Products line of Power Drawer connectors gives our customers more selections than ever to meet their power connector needs. These cost effective, mixed power and signal Power Drawer connectors are manufactured using the same high quality standards that have made APP a leader in the power connector industry for years.
The connector's pin contacts can be specified for first-mate and last-mate connection, allowing the electronic system to be grounded and mating electronically verified before the power circuits are energized.
Power Drawer connectors can be used for a wide range of drawer-type applications such as on N + 1 power supply and rectifier systems, mainframe computers, telecommunications, and network equipment. If power and signal is required, let Anderson Power Products be "Your Best Connection."