Fibreco MINI Expanded Beam Fiber Optic Connectors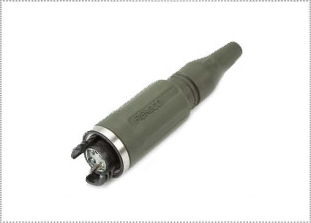 TACTICAL MILITARY / BROADCAST FIBER OPTIC CONNECTORS (MIL-DTL-83526)
The Fibreco Mini is the smallest multichannel hermaphroditic series of tactical expanded beam fiber optic connectors available, with a diameter of just 21mm and a length of 87.5mm, including boot, delivering endurance and reliability in harsh environments. As fiber continues to displace copper, it must be able to withstand large variations in temperature and humidity. As a method for connecting fiber, expanded beam connection technologies are proving themselves to be dependable, consistent, and efficient in the most demanding environments.
These expanded beam fiber optic connectors are compatible with standard MIL-TAC cable and is fully field terminable and repairable using standard fiber optic termination tools and equipment. Fibreco Mini expanded beam fiber optic connectors has an Aluminum (black hard anodized) shell with over-molded stainless steel grip.
Bulkhead connectors are available with jam-nut, square flange and XLR mounting and strain-relief for zip-cord or tactical cable. A low profile jam-nut bulkhead is also available. Applications include military tactical communications, outside broadcast systems, healthcare, or any application that requires high levels of data cleanliness, while speed and efficiency are also vital.