Cinch ModICE® ME Enclosures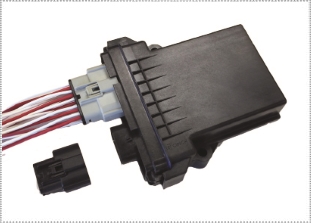 Check out the ModICE® SE & LE for all the protection of the ME Mini enclosures in a larger package that includes integrated heat sink.
INTEGRATED ME CONNECTOR ENCLOSURES
Cinch Connectivity Solutions have broadened the Modular Integrated Connector Enclosure (ModICE®) product line to include ModICE® ME series. The ModICE® ME series is Cinch's smallest sealed enclosure for rugged electronic control modules with a PCB board size of approximately 4.00 x 3.35" (103 x 85 mm). These enclosures are RoHS compliant, sealed to IP67 & IP69K and remain sealed even when the harness connectors are not mated.
Board Size
Standard Features ME, ME-RF
Standard Features ME-MX
Interfaces with Molex MX150® Harness Connector
SAE/USCAR 1.5mm interface
ME-MX Headers 12, 20, 24, 32 and 40 I/O
Optional Features
Headers with integrated ferrite filtering ME, ME-RF
Vented enclosures (Breather vent)
Additional custom modifications available from PEI-Genesis