Conesys D38999 Series III Connectors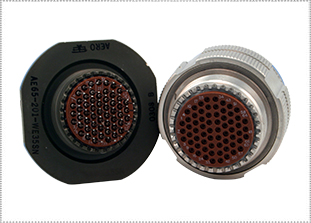 DELIVERING QUALITY PERFORMANCE IN DEMANDING ENVIRONMENTS
Qualified to MIL-DTL-38999 standards, Conesys D38999 Series III connectors provide excellent durability and performance in any environment. D38999 Series III connectors feature a one-turn coupling system with a self-locking acme thread for improved strength and shock resistance.
Elongated mounting holes permit the Series III Connector to intermount with various existing Mil-spec flange mounted receptacles, giving it a design replacement advantage.
Conesys D38999 Series III connectors are built to withstand a minimum of 500 mating cycles, and their proven corrosion resistance, fluid resistance and EMI/RFI shielding makes them ideal for general exposure and applications with harsh environmental exposure.
Browse our entire selection of Conesys D38999 Series III connectors by selecting "Shop Now" below!
Features and Benefits
MIL-STD-1560 Insert Arrangements - series III connectors use insert patterns and contacts common to Series I, making for an easy transition from bayonet to triple-lead, acme-thread, self-locking coupling
Metal-to-Metal Bottoming - This feature precludes relative shell-to-shell motion, which may result in ordinary connector wear and moisture entrapment
Lockwiring Eliminated - Self-locking quick coupling plug eliminates the need for lockwiring
Firewall Capability - Stainless steel shells in both K and S firewall classes are offered
Universal I/R Tool - A single, expendable plastic tool is used for both insertion and removal of contacts
Scoop-Proof Design - Recessed pins in elongated shells minimize the possibility for contact damage. In a blind mating application, mating shells cannot "scoop" the pins, and cause a shorting or bending of contacts
Closed-Entry Socket Insert - Hard dielectric socket face has lead-in chamfers for positive alignment of pins (even partially bent within pre-established limits) with sockets
Interfacial Pin Insert Seal - Raised moisture barriers around each pin, which mate into lead-in chamfers of hard face socket insert, provide individual contact sealing. Interfacial seals are never touched by service tools
Elastomer Wire Sealing Grommet - Sealing over a wide range of wire diameters is assured by a triple wire seal in each cavity at the rear of the connector
Superior Contact Stability - Rear release crimp contact system features a stamped beryllium-copper retaining clip captivated by molded-in shoulders of each contact cavity in the insulator. A rear-inserted M81969 plastic tool expands the tines beyond the shoulder, releasing the contact
Metric Accessory Thread – Metric thread results in additional wall thickness giving greater strength and shock resistance
Twinax Contacts – Aero Electric is Qualified to make and supply M39029/90-529 and M39029/91-530 size 8 Twinax contacts used in 38999 III connectors. Please consult factory even when needing to buy just the contacts