ITT Cannon BKA ARINC 600 Aerospace Connectors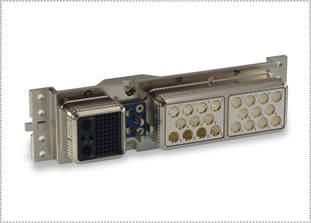 RACK & PANEL MILITARY / AEROSPACE ARINC CONNECTOR SERIES
ITT Cannon ARINC 600 connectors are designed to meet strict standards for aerospace and avionic systems applications, ITT Cannon's BKA connector series is a major milestone in creating new rack & panel connectors for the Air Transportation market (commercial aviation and in-flight entertainment/connectivity) and has use in military and industrial applications as well. These mixed power and signal ARINC connectors are available in environmental and non-environmental variations.
These ARINC 600 connectors are designed for blind mating and are compatible with both Front Release and Rear Release contacts (stamped PCB Contacts that can be removed, repaired and re-used, saving a great deal of time and resources). Available in 3 and 6 gang configurations for up to 800 low insertion force contacts including Multi-Signal Quadrax Contact Systems. Inserts are field replaceable as well.
PEI-Genesis offers fast shipping of ITT Cannon ARINC aerospace connectors with no minimum order quantity requirements.