ITT Cannon CA-B / CB Series Bayonet Connectors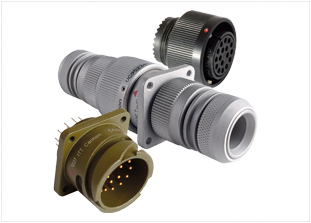 ULTRA RELIABLE REVERSE BAYONET CONNECTORS
ITT Cannon's CA-Bayonet connectors (CA-B / CB) were derived from MIL-DTL-5015 standards but use an improved, 3-point reverse-bayonet locking system that is VG95234 approved. With the enhanced coupling system, CA-B / CB connectors offer exceptional shock and vibration resistance for military systems/ground vehicles, heavy equipment, industrial equipment and rail applications.
In addition to over 140 arrangements, 12 connector sizes available for 1 to 65 circuits and diverse accessory options, the CA Bayonet series offers a wide range of plating. From VG approved Cadmium and black ZnCo to ITT's RoHS & REACH compliant ZnNi Blue Generation plating which offers 500 hours salt spray resistant, this makes ITT Cannon's CA Bayonet series one of the most versatile, high-reliability connector series on the market.
For full product details on the CA-B / CB bayonet series, see the specifications below.

ITT CANNON CB SERIES CONNECTORS FEATURES
Full Military Temperature Range
CB connectors will operate in temperatures from -55° to +125°C (-67° to +257°F) under the harshest possible conditions.


Wide Range of Wire Gauges and Current-Carrying Capability
Up to 245 amps with wire gauges from size 20 up to size 0 AWG.


Resilient Insulator & Grommet
A resilient polychloroprene insulator and rear sealing grommet guarantees a liquid-tight assembly. Crimp contacts can be inserted and removed a minimum of five cycles for field service.


Wide Variety of Contacts
High-reliability screw machine contacts with silver or gold plating are available in sizes from 20 through 0 to accommodate wire gauges from 24 to 0 AWG. Solder, crimp, PC, and thermocouple contacts are available.


Rugged Shell
Aluminum alloy shell and hardware create a rugged connector with minimal weight. These connectors have been used extensively in the military for many years and have proven their reliability in a wide range of combat and industrial applications.


Environmental
Fully tested to VG 95234 standards.


Simple Mating and Un-mating
CB bayonet style connectors use a unique "reverse bayonet" coupling system for ease of use. This system allows mating and un-mating of the connector halves with a simple 120° rotation - without compromising shock, vibration or moisture resistance. The coupling nut employs the exclusive Cannon "roller bolt" which is actually three small stainless steel wheels that roll down the mating ramps. The large, open ramps can be easily cleaned. The roller bolt and ramp coupling system eliminates the possibility of cross threading and thread damage possible with standard MIL-DTL-5015 threaded connectors. This quick mating design is easier to mate in cold weather, tight spaces, or on equipment which must be disassembled frequently.


Proven Reliability
CA–Bayonet has been used extensively in military vehicles such as the M1 Tank, the Hummer, advanced locomotives, transit cars and auxiliary equipment.


Audible, Visual & Tactile Confirmation of Mating
CB connectors provide the user with 3 independent checks that the connector halves are mated. When the coupling nut is fully rotated, the three roller bolts snap into the end of the ramps with a loud "click" (audible confirmation). At that same moment, the user can actually feel the bolts click into the grooves (tactile confirmation). A red arrow on the receptacle and a red dot on the coupling nut are aligned when the connector is properly mated (visual confirmation).


Environmental Sealing
The sealing of this connector is not compromised by any of the operating conditions defined in VG95234. Mated connectors are completely watertight when tested to 1 bar (35 feet) per the requirements of the VG 95234 specification. Unlike CT connectors, the receptacle contacts are not bonded into the inserts unless requested by the end user.


Intermateable and Intermountable with all VG 95234 Connectors
The standard VG 95234 layouts and dimensions ensure intermateability and intermountability with all connectors made in accordance with VG 95234. When front mounted, all CB connectors are intermountable with standard threaded VG 95234 connectors, making it possible to upgrade without the need to change panel cutouts or clearances in most cases.


Agency Approvals
Numerous European & International Rail Approvals. (Contact us for current listing)
- VG 95234


ITT CANNON CB SERIES CONNECTORS MATERIALS & FINISHES
Shell
Aluminum alloy (shells can be grounded)
Shell Plating
Olive drab chromate coating over cadmium plating, Zinc Cobalt (black or green), Blue Zinc Nickel
Contact Platings
Hard silver plating or gold plating
Insulator*
Resilient polychloroprene (Neoprene)
Seals
Silicone or Neoprene
*Optional zero halogen and high temperature insulators are available.
Contact us
for information.
ITT CANNON CB SERIES CONNECTORS ELECTRICAL DATA
Operating Voltage/Test Voltage According to MIL-DTL-5015
Air Spacing Nom. (Inches)
Creepage Distance Nom. (Inches)
The indicated values for the Operating Voltage are limits concerning the electrical function. In any case, when the working voltage exceeds 50V, safety precautions must be in accordance with the following standards: VDE 0100, IEC 309-1 or applicable national standards.
NOTE:
High Voltage Cartridge Contacts are available. These cartridges are used in either size 8 or 4 contact cavities using 20 AWG contact rated 7.5 amps max and working voltages up to 5000 Vdc - 3500 Vac.
Contact us for details
.
Current Rating at 68° F (+20°C)
(CA-B/CB) Max. Current
(Amps.)
Contact Resistance Milliohm Max.
Potential Drop
(Millivolts)
**
Maximum total current to be carried per connector in wire bundles as specified in MIL-W-5088. Contact resistance when tested to MIL-C-39029 will not exceed voltage drops listed in above table.
Wire Range Sizes
26 AWG to 0 AWG
Insulation Resistance
>1000 Megohm (CA-Bayonet)
According to VG95319 Test 5.12 and VG95210 Part 32, Test condition B.
ITT CANNON CB SERIES CONNECTORS MECHANICAL
Operating Temperature
-55° to 125°C (-67°F to 257°F) Neoprene
Sealing
Fully submersible to 1 bar (35 feet) when mated. Meets IP67, DIN 40 050 and VG 95234.
Wire Sealing Range
The connector is designed for individual wire sealing. Sealing of an outer cable jacket on multiconductor cables must be accomplished with an appropriate endbell. Sealing is only guaranteed if wires according to MIL-W-5086 or within the listed ranges are used.
Mating Life
500 cycles minimum (to VG 95234)
Salt Spray
Meets VG 95234, Test 5.34
Heat
+125°C (+257°F) for 1000 hours
Chemical Resistance
Tested unmated and mated according to VG 95234 for hydraulic fluid, lubricating oil, fuels, humidity,water, salt water, solvents and corrosion resistance.
Vibration
200 m/s2 at 10 to 2,000 Hz. To VG 95234 Test 5.16.
Shock
50g 11ms, three major axes. To VG 95234 Test 5.17.
Contact Type
Solder, crimp, PC, high voltage, first-mate last-break, or thermocouple. Hard silver or gold plating.
Number of Circuits
1 to 65
Contact Insertion
From rear with simple hand tool. Removable, 5 cycles minimum.
Content Retention
Pin and socket contacts are designed to resist severe vibration and repeated connection and disconnection. Contact retention and separation is tested according to VG 95319 Part 2. (Contact retention to test 5.4 with test force in mating direction. Separation force test 5.7 using required test gauge.)
Polarization
Key and keyway plus three point bayonet with optional rotational polarization.
Approvals/Specifications
• VG 95234
• MIL-DTL-5015
ITT CANNON CB SERIES CONNECTORS CROSS SECTION
CB/CA-B