ITT Cannon CA Series MIL-DTL-5015 Connectors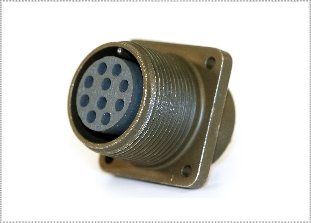 RUGGED 5015 CONNECTOR FOR HARSH ENVIRONMENTS
ITT Cannon CA series MIL-DTL-5015 connectors featured a threaded coupling mechanism and are manufactured to MIL-DTL-5015 for use in very harsh environments. ITT Cannon CA Series heavy duty 5015 connectors were originally designed as aerospace components and are popular, cost-effective, rugged commercial and military connectors. Hundreds of contact layouts are available, including common 2-pin connector, 3-pin connector, 4-pin connector, 12-pin connector and 16-pin connector types. The ITT Cannon CA series is a waterproof 5015 connector that is completely sealed to withstand condensation, vibration, and flash-over.
For full product details on the CA Series MIL-DTL- 5015 connectors, see the specifications below. Have a technical question? Click here to submit a technical request to our Design Engineers.

ITT CANNON CT SERIES MIL-DTL-5015 CONNECTORS FEATURES
Full Military Temperature Range
CT connectors will operate in temperatures from -55° to +125°C (-67° to +257°F) under the harshest possible conditions.


Wide Range of Wire Gauges and Current Carrying Capability
Up to 150 amps with wire gauges from size 26 up to size 0 AWG wire.


Resilient Insulator & Grommet
A resilient polychloroprene insulator and rear-sealing grommet guarantees a liquid-tight assembly. Crimp contacts can be inserted and removed a minimum of five cycles for field service.


Wide Variety of Contacts
High reliability screw machine contacts with silver or gold plating are available in sizes from 20 through 0 to accommodate wire gauges from 26 to 0 AWG. Solder, crimp, PC, and Thermocouple contacts are available.


Rugged Shell
Aluminum alloy shell and hardware create a rugged connector with minimal weight. These connectors have been used extensively in the military for many years and have proven their reliability in a wide range of combat and industrial applications.


Environmental
Vibration proof and water proof. Will perform in the full range of MIL-DTL-5015 environments.


Standard Shielding Interface
CT connectors meet requirements for MIL-DTL-5015 E/F/R styles of connectors. The threaded coupling provides superior EMI/RFI shielding without the need for special grounding spring components required for shielding bayonet style connectors. The threaded coupling nuts are used extensively in robotic applications where connector and cables rock continually. The standard CT coupling nuts contain holes for lock wires used in high-vibration or security applications.


Sealed Receptacles
All CT solder receptacles have inserts and contacts bonded in place in accordance to the MIL-DTL-5015 specifications. These receptacles are sealed and their air leakage rate is not greater than one atmospheric cubic inch per hour (4.55 x 10-3 cubic centimeters per second) through the interface. Gaskets and seal screws are used to seal the panel and protect from leaks around the connectors.


High Performance, Low Cost
Originally designed to the first military specification – Tri-Service connector for the Army, Air Force and Navy– these connectors are now widely used in industrial applications. These threaded connectors are easy to specify, purchase and assemble, providing long service life for applications needing minimum maintenance. PEI-Genesis assembles these in days to reduce the user's total cost of ownership.


Agency Approvals
MIL-DTL-5015


ITT CANNON CT SERIES MIL-DTL-5015 CONNECTORS — MATERIALS & FINISHES
Shell
Aluminum Alloy (shells can be grounded)
Shell Plating
Olive drab chromate coating over cadmium plating, black zinc cobalt, Blue Zinc Nickel, electroless Nickel.
Contact Platings
Hard silver or gold plating
Insulator*
Resilient polychloroprene (Neoprene)
Seals
Silicone or Neoprene
*Optional zero halogen and high temperature insulators are available.
Contact us for information
.
ITT CANNON CT SERIES MIL-DTL-5015 CONNECTORS — ELECTRICAL DATA
Operating Voltage/Test Voltage According to MIL-DTL-5015
Creepage Distance Nom. (Inches)
The indicated values for the Operating Voltage are limits concerning the electrical function. In any case when the working voltage exceeds 50V, safety precautions must be in accordance with the following standards: VDE 0100, IEC 309-1 or applicable national standards.
NOTE:
High Voltage Cartridge Contacts are available. These cartridges are used in either size 8 or 4 contact cavities using 20 AWG contact rated 7.5 amps max and working voltages up to 5000 Vdc - 3500 Vac.
Contact us for details
.
Current Rating at 68°F (+20°C)
(CT) Max. Current
(Amps**)
Contact Resistance Milliohm Max.
Potential Drop
(Millivolts)
**Maximum total current to be carried per connector in wire bundles as specified in MIL-W-5088. Contact resistance, when tested to MIL-C-39029 will not exceed voltage drops listed in above table.
NOTE:
CB and CT current rating are tested differently.
Please contact us for information
.
Wire Range Sizes
26 AWG to 0 AWG
Insulation Resistance
>5000 megaohms at 77°F (25°C) per MIL-DTL-5015, 3.18
ITT CANNON CT SERIES MIL-DTL-5015 CONNECTORS — MECHANICAL
Operating Temperature
-55° to 125°C (-67°F to 257°F) Neoprene
Sealing
48 hours in 6 feet of water per MIL-DTL-5015, 4.6.19. Meets 20-day extreme humidity testing per.
Wire Sealing Range
The connector is designed for individual wire sealing. Sealing of an outer cable jacket on multiconductor cables must be accomplished with an appropriate endbell. Sealing is only guaranteed if wires according to MIL-W-5086 or within the listed ranges are used.
Insulation O.D. Limit (Inches)
Mating Life
100 cycles minimum. To MIL-DTL-5015, 3.16
Salt Spray
CAD OD : MIL-STD-1344 Method 1001 Condition B. minimum. A206 : 48 hours
Heat
+125°C (+257°F) for 60 hours, +85°C (+185°F) for 1000 hours per MIL-DTL-5015, 4.6.14, minimum.
Chemical Resistance
20-hour full immersion unmated in hydraulic fluid and lubricating oil per MIL-DTL-5015 minimum.
Vibration
10 to 2,000Hz (15g's) 10 microseconds maximum discontinuity. To MIL-STD-1344 Method 2005 per MIL-DTL-5015.
Shock
50g 11ms duration, three major axes. 10 microseconds maximum discontinuity. To MIL-DTL-5015, 3.13.
Contact Type
Solder, crimp, PC, high voltage, first-mate last-break or thermocouple. Hard silver or gold plating.
Number of Circuits
1 to 65
Contact Insertion
Solder contacts are bonded to insulator
Content Retention
Pin and socket contacts are designed to resist severe vibration and repeated connection and disconnection.
NOTE:
CT/CA/MS receptacle contacts are bonded into the insulator.
Polarization
Key and keyway with optional rotational polarization.
Approvals/Specifications
• MIL-DTL-5015
ITT CANNON CT SERIES MIL-DTL-5015 CONNECTORS — CROSS SECTION