ITT Cannon Trident Multiway Rack & Panel Connectors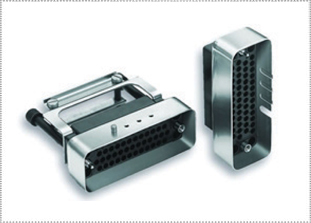 RECTANGULAR CONNECTORS RATED TO IP40
ITT Cannon Trident Multiway connectors are a family of cost-effective rectangular connectors tested to MIL-STD-202 and IEC 512, designed for exceptional performance in harsh environments. Trident Multiway Rack & Panel connectors have earned an International Ingress Protection (IP) rating of IP40, meaning they are completely sealed against dust and other solid objects and temporarily submersible up to 1m. ITT Cannon's Rack & Panel interconnect solutions are manufactured to the highest quality and reliability standards for the aerospace and defense industry.
The Multiway range has six contact cavity arrangements available and offers an extremely reliable connector system, in which any Trident signal or coaxial contacts can be used.
All multi-rack & panel connectors are RoHS-compliant and recognized under the component program of CSA. For full details on the ITT Cannon Trident Multiway Rack & Panel rectangular connector series, please see the product specifications below.