PEI-Genesis Opens Assembly Facility In China
Partnership With Amphenol Marries Innovative Connector Technology With Fast Assembly And Exceptional Service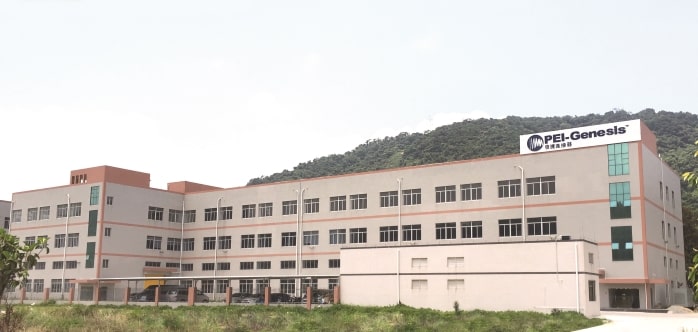 Philadelphia, PA (May 27, 2015) Chinese-based manufacturers will now be able to obtain any size order of precision connectors faster than ever before, thanks to the opening of PEI-Genesis's 54,000-square foot assembly facility in Zhuhai.
PEI-Genesis, known as one of the world's fastest assemblers of precision connectors and cable assemblies, opened the new facility as part of the company's strategic plan to expand into new geographies.
With the opening, the company expands its longstanding-partnership with Amphenol, one of the largest manufacturers of interconnect products in the world, allowing manufacturers in the Rail-Mass Transit, Commercial Air, Oil and Gas, Solar and Industrial markets to access world-class interconnect technology with flawless quality and fast assembly and shipment. PEI has been an authorized value-add distributor of Amphenol products for more than 15 years.
"China is the fastest growing market for our products today," said Jane Fischetti, PEI's General Manager Asia, South America, and Distribution. "The move into China, allows customers to place orders as small as one piece and receive delivery in a few days."
The PEI factory in Zhuhai uses the same proprietary automation, the same process flow, and the same software used in the company's facilities in the U.S. and the UK, filling a critical need in the Chinese market for high-mix, low volume configured connectors.
"We are excited that PEI-Genesis has entered the China market with their unique, high service model. Our customers in China will benefit greatly from this partnership, which has been so successful in other parts of the world due to the ability of PEI-Genesis to quickly respond to changing market demands," said Martin Booker, Vice President & Group GM Amphenol Industrial Products Group.
PEI-Genesis's Zhuhai facility is open and fully operational. Sales and operational teams are ready to service customers with the same speed and dedication customers have come to expect from PEI in North America and Europe.
"There is no other distributor in China focused on high-mix, low-volume production," said Fischetti. "We want to be viewed as a Chinese company, bringing our unique ability to deliver millions of different part numbers in 48-hours, while also offering engineering and design support."
About PEI-GENESIS
PEI-Genesis is one of the world's fastest assemblers of precision connectors and cable assemblies. From the largest connector component inventory in the world, they develop engineered solutions that support the military, industrial, medical, aerospace, transportation and energy sectors worldwide. Headquartered in Philadelphia, PA, PEI-Genesis has production facilities in South Bend, IN; Southampton, UK; and Zhuhai, China as well as sales offices throughout the Americas, Europe and Asia. More information may be found at www.peigenesis.com.
About Amphenol
Amphenol Industrial Products Group, headquartered in a 675,000 square foot facility in Sidney, N.Y., provides a full range of high reliability power/signal connectors and interconnection systems specifically for the industrial markets including rail/mass transit, process control, automotive manufacturing, heavy equipment, wireless base stations and petrochemical/power generation. Products include ruggedized-for-industry cylindrical, fiber optic, rectangular, and industrialized versions of Amphenol's MIL-DTL-5015 cylindrical, MIL-DTL-26482 miniature cylindrical and GT reverse bayonet cylindrical connectors. It employs more than 1,400 people and is ISO9001, TS96949 and MIL-STD-790 certified.
Amphenol Industrial Products Group is a division of Amphenol Corporation, Wallingford, CT, one of the largest manufacturers of interconnects products in the world, with year 2014 sales topping $5.3 billion.