PEI-Genesis Expands Footprint Into India: Manesh Pratap Singh Appointed Country Manager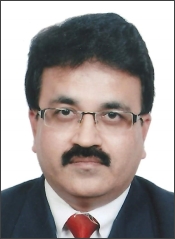 Philadelphia, PA -- June 26, 2018 -- PEI-Genesis, a global leader in the design and assembly of custom engineered connectors and cable solutions, has expanded its footprint into the Indian market, naming Manesh Pratap Singh as Country Manager for India, it was announced today by Jane Fischetti, General Manager, Distribution & International Sales.
"We have been selling to the India market for many years through Jost Engineering but bringing Manesh on board clearly shows our commitment to the India market," said Fischetti. "Our next step is to build a team of sales and engineering professionals to support our existing and new customers in this flourishing market."
Singh, based in New Delhi, has over two decades of business development and sales leadership experience in India and South Asia. He has worked in leadership positions serving as Country Manager for Nortel DASA, Head of Business Development at TataGroup company, and Head of Sales & Marketing at AEG Power Solutions.
"The India market continues to be a focus of growing companies from around the world," said Singh. "My goal is to bring the unique set of values & expertise of PEI-Genesis to this market, primarily to the aerospace, defense, satellite, railways & industrial sectors. This move contributes to the 'Make in India' program of the Indian Government by expanding PEI-Genesis's operations throughout the region."
"Having a physical presence in India is a solid strategic move," said Steven Fisher, PEI-Genesis President and CEO. "We are excited to welcome Manesh to the PEI family and to have a physical presence in India, one of the fastest growing economies in the world."
"We know our focus on service and our technical expertise will be both welcomed and appreciated by our customers in India," said Fischetti.
About PEI-GENESIS
PEI-Genesis is one of the world's fastest assemblers of precision connectors and cable assemblies. From the largest connector component inventory in the world, they develop engineered solutions that support the military, industrial, medical, aerospace, transportation, and energy sectors worldwide. Headquartered in Philadelphia, PA, PEI-Genesis has production facilities in South Bend, IN; Chandler, AZ; Nogales, MX; Southampton, UK; and Zhuhai, China as well as sales offices throughout the Americas, Europe and Asia. More information may be found at www.peigenesis.com.