PEI-Genesis Recognized by Cinch Connectivity Solutions as Value-Add Distributor of the Year for EMEA, at Electronica
Philadelphia, PA -- (November 29, 2018) PEI-Genesis, a global leader in the design and assembly of custom engineered connectors and cable solutions, has been recognized by Cinch Connectivity Solutions, a Bel group company, and global leader in delivering reliable connectivity solutions, as Value-Add Distributor of the Year for the 2018 calendar year, at electronica. This award is given based on excellence in sales growth, service, customer satisfaction and engagement.
"With PEI's commitment to delivering great service to our customers, combined with Cinch's innovative industry leading products, it is with great pride that we have been recognized by this award for our strong partnership in EMEA," said Jonathan Parry, PEI-Genesis Senior Vice President of Global Operations and MD Europe. "My thanks to the entire team on delivering these fantastic results together."
Peter Walmsley, Director-EMEA Distribution for Cinch Connectivity commented, "The relationship between Cinch and PEI-Genesis has been long established, in terms of growth, design wins and building market share for Europe." "We are excited about the success this year and look forward to 2019 successes."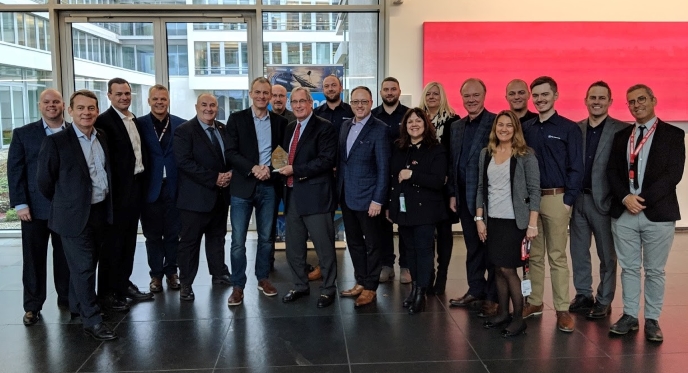 Picture Left to Right: Andy Calloway- Cinch Connectivity Solutions, Mark Falkingham- Cinch Connectivity Solutions, Pete Bittner- Bel Connectivity Solutions, Nicola Della Malva- PEI-Genesis, Pete Walmsley- Cinch Connectivity Solutions, Jonathan Perry- PEI-Genesis, Peter Sullivan- PEI-Genesis, Dan Bernstein- Bel, Damon Turner- PEI-Genesis, Peter Austin- PEI-Genesis, Sean Fitall- PEI-Genesis, Debbie McBride- PEI-Genesis, Meriel Grubb- PEI-Genesis, Kris Haggstrom- PEI-Genesis, Julie Trunk- PEI-Genesis, Joao Rocha- PEI-Genesis, Ray Eastburn- PEI-Genesis, John Rozanski-PEI-Genesis, Simcha Frimer- PEI-Genesis
About PEI-GENESIS
PEI-Genesis is one of the world's fastest assemblers of precision connectors and cable assemblies. From the largest connector component inventory in the world, they develop engineered solutions that support the military, industrial, medical, aerospace, transportation, and energy sectors worldwide. Headquartered in Philadelphia, PA, PEI-Genesis has production facilities in South Bend, IN; Chandler, AZ; Nogales, MX; Southampton, UK; and Zhuhai, China as well as sales offices throughout the Americas, Europe and Asia. More information may be found at www.peigenesis.com.
About Bel
Bel (www.belfuse.com) designs, manufactures and markets a broad array of products that power, protect and connect electronic circuits. These products are primarily used in the networking, telecommunications, computing, military, aerospace, transportation and broadcasting industries. Bel's product groups include Magnetic Solutions (integrated connector modules, power transformers, power inductors and discrete components), Power Solutions and Protection (front-end, board-mount and industrial power products, module products and circuit protection), and Connectivity Solutions (expanded beam fiber optic, copper-based, RF and RJ connectors and cable assemblies). The Company operates facilities around the world.