Composite subminiature connectors offer excellent EMI shielding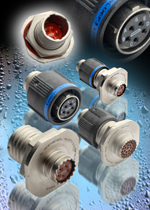 International assembling distributor PEI-Genesis has added Amphenol's Amphe-Lite range of commercial subminiature circular connectors to its stock profile and is now offering them with PEI's industry-leading 48-hour assembly service.
Featuring composite shells with built-in grounding fingers and electroless nickel plating as standard, the Amphe-Lite connectors provide excellent EMI shielding performance of 65dB at 10GHz, making them ideal for use on communications towers, process-control systems and medical equipment.
They can withstand the harshest of environments, thanks to the
inherent corrosion resistance of the composite shells and interfacial seals that protect the contacts from the ingress of moisture.
Available in shell sizes 9 to 25 with up to 100 contacts, the connectors come in three different styles: wall mount receptacle, jam nut receptacle and straight plug. All versions feature a 100% scoop-proof design and completely mate in just one 360-degree turn of the coupling nut.
Amphe-Lite connectors can be specified with a variety of different contacts, and the range of accessories includes dust caps, cable clamps and application tools.