Electronics Sourcing Interview about MyPEI
PEI-Genesis introduces online shopping
(This interview appeared also on Electronic Sourcing USA)
PEI-Genesis, the franchised connector-assembly specialist, has carried out a major upgrade of its website and introduced a personalisation facility called MyPEI, which not only enables customers to shop online but also gives them access to a host of additional features. Here, Russel Dorwart, President & COO of PEI-Genesis, talks to Electronics Sourcing USA about this new development.
ES: In general terms, online shopping has been around for several years, so why has PEI-Genesis chosen this moment to introduce MyPEI?
RD: Frankly, we would have liked to introduce this capability sooner, but because we build everything to order, our 'inventory' consists of only component parts, which are of no use to our customers. What we needed was the ability to present a list of the finished goods that we can build from those components in real time, and then integrate this into our back-end systems.
We have accomplished this, and we now have something that is really unique. We are presenting over 3 million connectors on MyPEI that we can build and ship tomorrow, and when you enter orders on MyPEI, you are seamlessly dropping production orders on our factory floors in the USA or UK. This level of integration was a huge investment in time and money, and we are now poised to present millions of additional products that will be immediately available to our worldwide customers – mass-customized to order and shipped within 48 hours.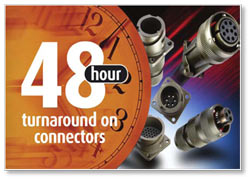 ES: Has there been significant customer demand for an online shopping facility?
RD: I think the level of acceptance we have seen clearly tells us that there is a demand for MyPEI. MyPEI makes our products and services instantly available to a wide range of new customers, but more importantly, it is another way for us to delight our existing customers. I believe this is where we will see the real power of MyPEI. Because so much of what we do is engineering support for our customers, we prefer to talk with our customers, but the web is a very efficient medium for information transfer.
For example, in addition to technical data, a customer logged in to MyPEI has visibility of over ten years of their purchase history, a view of their proprietary parts and their contract pricing. Customers can place orders on open account; lock quoted pricing, request special quotations, and even ask technical questions via MyPEI. Of course, we would always prefer to talk to our customers directly, but the web gives us another way to interact.
ES: What have been the particular challenges involved in implementing online shopping for connectors?
RD: As I mentioned earlier, the integration of the web with our back-end systems was the real challenge. We have a very sophisticated build-to-order computer architecture that works with very little human intervention. For example, we don't do any production or capacity planning in our factory, which is unusual. Instead, we run algorithms that generate production orders and move those orders through the plant. We integrated MyPEI into our worldwide production systems so that we have a single path from the browser to the production floor. We really pushed the envelope on this, and getting it right took us about a year of programming and testing. But we have it now, so we'd really like to encourage customers to place an order!
ES: How does MyPEI compare with your competitors' facilities?
RD: Some of them offer online shopping facilities, but no-one has the depth of inventory or the focus that we have here at PEI-Genesis. We have the largest connector component inventory in the world, coupled with the fastest assembly time in the world. The combination of these two unique capabilities allows us to keep our inventory in its most flexible form – as components – and build to order. This translates into millions of unique connectors that we can build and ship within 48 hours, giving our customers the precise connector they need, and doing that literally as quickly as if we stocked 50 million different connectors. There is a huge multiplier in doing business this way. With a $60 million component inventory, we can create finished goods valued at over $500 million and ship whatever the customer needs immediately. This gives our customers vast choice and immediate availability. MyPEI brings this unique PEI capability to the web.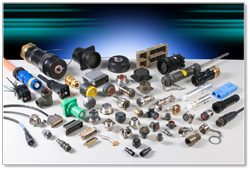 ES: As most PEI-Genesis products are built to order, does the company perform any checks, either automatically or manually, to identify possible errors in MyPEI orders?
RD: We have both automatic and manual checks for product quality and regulatory compliance, but the goal with MyPEI was speed, so there are virtually no manual steps. At the front end, on the web, we are only presenting valid feature combinations, so it would be impossible to order something that we can't build. To maintain our unrivaled speed, orders entered on MyPEI flow directly into our enterprise environment without any human interaction. Products that involve regulatory controls are handled with a mixture of automation and manual checks.
For example, products subject to US ITAR controls (International Traffic in Arms Regulations) are tagged in our system. An order entered on MyPEI for an ITAR-controlled item automatically goes on hold until we have contacted the customer and completed the necessary State Department documentation. MyPEI directly feeds our back-end production systems. Those systems are highly automated, involving dozens of in-process quality checks. So actually, MyPEI is a front-end system that is part of a very robust quality process covering the whole operation from order entry to dispatch.
ES: Is there a limit to the size of order (either value or quantity) that customers can place via MyPEI?
RD: For every item, MyPEI has two options, a Buy button, and a Quote button. You can buy any quantity that we can build from available inventory. This allows us to honour our build/ship promise (because we have all of the material in-house to assemble the order). For larger quantities, or unique needs, the Quote button can be used. We respond to quotation requests within 24 hours either by e-mail or phone, depending upon the customer's preference.
ES: What proportion of your orders do you expect to be generated via MyPEI?
RD: I fully expect that at least 10% of our volume will be coming through MyPEI in the next two years.
ES: Is MyPEI aimed at any particular type of customer?
RD: Actually, I think MyPEI will be useful for our entire customer base. Engineers will certainly like the fast access to prototype samples and the wealth of technical information. Purchasing professionals will enjoy having their contract pricing, their purchasing history and the ability to track their orders in real-time. And, of course, MyPEI is a portal to enable all customers to access our engineering capabilities online.
ES: Apart from the convenience of online shopping, what other benefits are there for customers who create a MyPEI account?
RD: We're building an extensive library of product design information that simply isn't available anywhere else, so that is certainly of great value. Registered users who log-in will see additional detail on product availability, customised pricing and their own products, as well as their purchase history. There is also a feature that allows users to 'lock' quoted pricing on the site without the need to request a formal quotation.
MyPEI is fully integrated into all of our worldwide back-end systems, so you can track orders in real-time through our factory. MyPEI also has real-time links with carriers like UPS and FedEX, so you can track your shipments right to your door with a few mouse clicks. We took the time with MyPEI to integrate our web presence into our entire worldwide enterprise environment, so we have a really solid foundation in place that we are using to create new features. We have a dedicated programming team working on MyPEI every day, so I would encourage people to keep coming back and explore. The FAQ page at www.peigenesis.com is a great way to get acquainted with the evolving features on MyPEI.