French Connection Lifts PEI Genesis
PEI-Genesis has continued its push into European markets.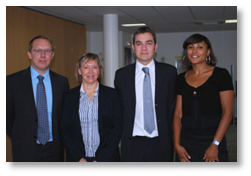 PEI has opened an office in France which will be led by country manager Jean-Noel Galliot. The four-strong French team will be based at Bussy Saint Georges, which is located about 30km east of Paris.
"As a team, we are very excited about the opportunities for PEI-Genesis in France," said Jean-Noel Galliot. "We believe that engineers and buyers in the industrial, transportation, aerospace and defence sectors will respond eagerly to the company's rapid connector assembly service and that PEI Genesis will soon be firmly established in the French market." Galliot has over 14 years' experience in the electronics industry, including 7 years as European distribution manager and key account manager for a leading connector manufacturer.
He will be supported by David Bonamy, who has been appointed as sales manager for the south of France, together with internal sales personnel Jarmila Chaintreau and Nadege Renciot.
In addition, another new French employee, Christel Cavillon, has joined PEI-Genesis at its European headquarters in Southampton to provide purchasing support for the French operation.
PEI-Genesis works in partnership with leading connector manufacturers such as Amphenol, ITT Cannon, ITT Interconnect Solutions, Glenair and Polamco. The company is able to offer an unrivalled 48-hour connector assembly service by carrying a massive inventory of connector piece-parts and using purpose-designed machines to automate the assembly process.