Multi-pin hazardous-area connectors now available fully assembled in 48 hours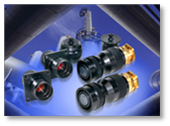 The comprehensive range of ATEX-approved multi-pin hazardous-area connectors manufactured by Amphenol Industrial Operations is now available for despatch within 48 hours from international assembling distributor PEI-Genesis.
The Amphe-EX series and Star-Line EX series connectors are specifically designed for use in harsh environments such as those associated with oil and gas exploration, petrochemical plants and fuel storage sites.
In common with most multi-pin connectors, these rugged Amphenol products can be specified in a huge variety of configurations with regard to shell style and size, insert pattern and contact type. To ensure that customers are supplied with exactly the right connector for their application, PEI-Genesis holds its stock at piece-part level and only assembles the connectors to order.

By investing in a massive inventory of piece-parts and developing its own in-house machines to automate the assembly process, PEI-Genesis is able to despatch fully assembled and tested connectors in less than 48 hours.
The Amphe-EX series of miniature connectors is an extremely versatile hazardous-area connector that accepts copper, coaxial or fibre-optic contacts. In addition, the connectors can be specified with RJ45 or USB inserts for applications such as data acquisition, process control, communications systems and embedded computers.
Capable of withstanding the most extreme environments, the Amphe-EX connectors feature machined aluminium components plated with a hard anodic coating for superior resistance to heat, corrosion and scratching. They are ATEX, AEX and IEC certified for Zone 1 rated applications and flameproof compliant to EN60079-0 and EN60079-1. Utilising a double-lead threaded coupling, the connectors are IP68-rated to provide maximum protection against the ingress of dust and fluids.
Available connector styles include in-line receptacles, panel-mount receptacles and straight plugs, all of which come in a choice of seven shell sizes ranging from 9 to 21. The connectors can be specified with crimp contacts in five sizes from 22D to 10, and the range offers a wide variety of insert patterns.
Complementing Amphe-EX is Amphenol's Star-Line EX series of heavy-duty hazardous-area connectors, which are designed to accommodate crimp, solder or pressure contacts for power, signal or mixed applications.
Covering five shell sizes from 12 to 28, these connectors are also made from machined aluminium parts with a hard anodic coating. They are ATEX and IEC certified for use in Zone 1 hazardous environments and feature a double-lead coarse threaded coupling, together with an IP68 rating.
Both the Amphe-EX and Star-Line EX connector series are now in stock at the PEI-Genesis European assembly facility in Southampton. The company's 48-hour assembly service means that buyers and engineers can now obtain exactly the right connector for their requirement in the shortest possible timescales.
What's more, this exceptional service comes without the burden of minimum order quantities, as PEI-Genesis will happily assemble just one connector if that is all the customer requires. This is particularly useful for maintenance-and-repair applications and for customers wishing to minimise their inventories as there is no need to purchase unnecessary additional stock.
For customers who do not know the exact part number of the connector they require, PEI-Genesis has a specialist engineering team who can provide advice on the correct product to use for a particular application. This technical expertise is complemented by a website offering a wealth of useful resources.