New connector kit service saves time for purchasing and production staff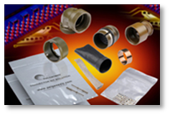 PEI-Genesis has introduced a new connector kit service that enables customers to obtain a multi-contact connector with the accessories required to terminate it to a cable – all packaged in one bag, under a single part number.
By eliminating the need to place separate orders for individual items such as backshells, shrink boots, shielding, screen-trap devices and potting material, this new service will significantly speed up the purchasing process for customers.
In addition, since all of the components are supplied in a single bag, customers' production departments will save time because they only have to retrieve one item from stock, rather than several different products. The connector-kit bags can even be specially printed by PEI-Genesis with information such as the customer's own part number.
PEI-Genesis is offering the connector kit service for a wide range of bayonet-coupling and threaded connectors from leading manufacturers Amphenol and ITT Interconnect Solutions (Cannon and VEAM).
Various backshells are available, including PEI-Genesis proprietary designs, as well as Polamco and Glenair parts. A range of heat-shrinkable tubing and moulded shapes from manufacturers such as HellermannTyton can also be supplied as part of the kit.
Primarily aimed at customers who are placing regular repeat orders, the connector kit service is available with PEI's standard turnaround time of 48 hours, which includes full assembly and testing of the connector itself.
To help customers select components for their connector kits, PEI-Genesis has produced a detailed guide in the form of a 'cook book', together with a step-by-step online guide: How to Submit a Connector Kit Selection Form for a quote.
514