PEI Cuts Out Connector Delays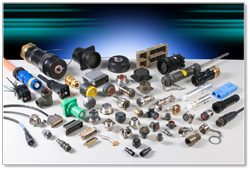 The 48-hour connector assembly service offered by PEI-Genesis can help companies avoid delays in product development.
While there are some simple connectors that could be considered 'standard' products, very often today's electronic systems require one or more complex multi-pin connectors whose configuration is specific to the application in hand. As well as the connector's electrical performance, there are many mechanical variables to consider, including shell style and size, coupling mechanism, contact style and size, and number and arrangement of contacts.
By definition, these complex connectors cannot be purchased 'off the shelf' but have to be assembled to order. Dealing direct with a connector manufacturer might sometimes be appropriate, but for anyone involved in product development and prototyping, manufacturers' typical lead times of 10-12 weeks are likely to cause unacceptable delays.
In addition, the minimum order quantities (MOQs) specified by manufacturers may well exceed the actual requirement. With the financial pressures of the current economic climate, few companies can afford the luxury of carrying unnecessary additional inventory. If the requirement is urgent, the best approach is to use a franchised connector-assembly specialist like PEI-Genesis, who can assemble the exact connector configuration needed and despatch it within 48 hours from receipt of order.
The company achieves this high service level by carrying a massive $60 million inventory of connector components and developing its own machines to automate the connector assembly process. There are no MOQs at all, and the same 48-hour service applies to every order, whether it is for one connector or hundreds. Primarily serving the industrial, railway, aerospace and defence sectors, PEI-Genesis works in close partnership with leading connector manufacturers such as Amphenol Connectors, ITT Interconnect Solutions (ITT Cannon Connectors and VEAM Connectors), Glenair and Polamco, so customers can be assured of receiving products of the highest quality.
Available across a wide range of products, the rapid connector-assembly service offered by PEI-Genesis can play a significant role in helping companies to shorten their development cycles and reduce the time it takes to get new products to market.