PEI-Genesis connector production hits the 8 million mark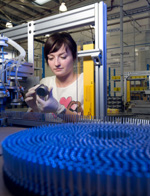 PEI-Genesis, the international franchised distributor specializing in the rapid assembly of multi-pin connectors, has reached a significant milestone in the company's history by achieving a worldwide annual output of over 8 million assembled connectors.
During the last 12 months the company assembled a total of 8,354,671 connectors from 226,068 works orders covering 52,792 different part numbers. Impressively, over 50% of the 8 million connectors were built for customer orders of 5 pieces or less, and 65% were for customer orders of 10 pieces or less. All connectors were assembled and shipped in 48 hours.
Commenting on this achievement, European Marketing Manager Doug Mercer said: "These figures underline the fact that our 48-hour connector assembly service is proving to be very attractive to a broad range of customers. Because we have no minimum order quantities, customers know that they can get the exact connector they need, in the shortest possible timescales – and without having to purchase unnecessary extra stock."
Primarily serving the industrial, railway, aerospace and defense sectors, PEI-Genesis works in close partnership with a number of leading connector manufacturers, including Amphenol, ITT Interconnect Solutions (Cannon and VEAM), Polamco, and CINCH.
Mercer continued: "The total volume of connectors is all the more impressive when you realise that the vast majority of the 8 million are not say single-pole RF connectors but complex multi-pin circular connectors in a wide variety of configurations."
PEI-Genesis is able to offer a 48-hour assembly service for such products because it carries a massive $53 million inventory of connector piece-parts and uses in-house developed machines to automate assembly processes wherever possible.
While the lion's share of production still takes place in the USA to serve PEI's well established customer base there, the fastest growth is being seen at the company's European connector assembly facility, which was relocated last August from Basingstoke to new 65,000 ft2 premises in Southampton.
PEI-Genesis has enjoyed consistent double-digit growth in its European operations since first establishing a presence here in 1998, and during the last 12 months the European assembly facility reached a total output of 664,797 connectors, arising from 28,906 works orders covering 9,849 different part numbers.
The company fully expects this growth to continue in Europe and is actively expanding its network of sales offices across the Continent to meet the anticipated demand.