PEI-Genesis Continues to Gain More Customers - Opens Four New Branches in North America
PEI-Genesis, Inc., the world's fastest assembler of precision connectors and power supplies, announced today the addition of four new branch offices.
The new branches will be located in Seattle, Minneapolis, Long Island, NY, and Huntsville, AL.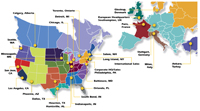 With the addition of these branches, PEI-Genesis now has 27 branches in North America and Europe. While many companies are retracting and eliminating staff, PEI-Genesis continues to invest in its branch model. "We believe the closer we are to our customer, the better we understand them" states Steven Fisher, CEO, "In a world moving toward self-serve, we feel we offer a distinct advantage –choice. We now have over 100 salespeople in North America alone with a team of dedicated engineers ready to serve our customers who may not always know what they want or need."
PEI-Genesis has made its mark in the electronic components and power supply industry by bucking the trend of traditionally long lead times. They strive to reduce customers' total acquisition cost and lead times, simplify assembly, and improve the quality and reliability of their designs. PEI-Genesis, which requires no minimum order quantities, can turn around one connector or 10,000 within 48 hours and power supplies in under five days. They are able to do this with their proprietary automation and a strong team of dedicated engineers which include field application engineers, internal application engineers, design engineers, power engineers, and manufacturing engineers. They have also created robust solution guides that make a customer's integration process straightforward and can quickly meet their exact application needs Russel Dorwart, president & COO, concurs "Customers tell us they like choice and access. We offer them direct access to our sales team in their local area as well as 24/7 shopping via MyPEI where customers can search and purchase from over 450,000 component parts."
The branch managers for the four branches are as follows: Jennifer Chaney, Huntsville, AL; Kevin Dahlke, Minneapolis, MN; John Bridenstine, Seattle, WA; and Bill Close, Long Island, NY. In addition to the branch managers, each branch will have four salespeople and an inside support person. Click here for detailed contact information.