PEI-Genesis Receives Amphenol's Highest Worldwide Award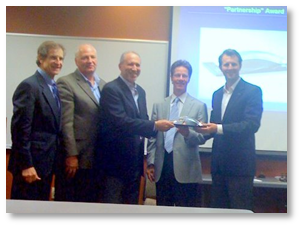 Amphenol is pleased to announce that the 2008 "Global Partnership Award", which recognizes superior performance of its worldwide distributor, has been awarded to PEI Genesis. For the prior four years, PEI Genesis was the recipient of Amphenol's "Rising Star" emerging distributor award.
R. Adam Norwitt, Amphenol's Chief Executive Officer, presented the award at the PEI Genesis South Bend, Indiana value-added facility in front of an audience of their management teams. Adam Norwitt commented, "Amphenol is very excited to recognize PEI Genesis for its outstanding performance in 2008. We are proud of PEI Genesis has become our leading global partner, which is a reflection of the growth of our respective positions in the interconnect industry. Congratulations to Steve Fisher and the entire PEI Genesis team for their growth and performance in 2008 with Amphenol".
Steven Fisher, PEI-Genesis CEO, said, "PEI-Genesis is honored to accept the 2008 Amphenol Global Partnership Award. This award is particularly appreciated during these difficult times. Our achievement was made possible by the global PEI-Genesis team and with the vital support of our Amphenol colleagues. We look forward to continued mutual growth and prosperity in the future".
PEI President Russel Dorwart commented, "We are honored to receive Amphenol's highest achievement award for outstanding performance and the fastest growth of all Amphenol Distributors worldwide. PEI-Genesis is now the largest Amphenol distributor in Europe, the largest industrial distributor in North America and the fastest growing of the top three Aerospace distributors".
Photo Left to right: Martin Loeffler Amphenol Chairman, Gary Anderson Amphenol EVP, Steven Fisher, PEI-Genesis CEO, Russel Dorwart, PEI-Genesis President and R. Adam Norwitt, Amphenol CEO.