PEI-Genesis to highlight ITT's versatile VEAM CIR and VBN connectors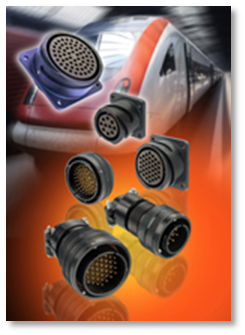 One of the main features of the PEI-Genesis stand at the forthcoming Railtex show will be a display of ITT's versatile VEAM CIR and VBN series multipin connectors, which can be configured with a wide variety of inserts and contacts to provide electrical, fiber-optic or pneumatic interconnections.
Designed specifically for the hostile environment of rail-industry applications, the VEAM CIR and VBN connectors are available from PEI-Genesis with the company's
market-leading 48-hour assembly service.
This means that engineers and buyers in the rail sector can now obtain the exact connector for their requirement in the shortest possible time and without the burden of minimum order quantities, as PEI-Genesis will assemble just one connector if that is all the customer needs.
The basic design parameters of the VEAM CIR and VBN series were derived from the MIL-C-5015 military specification and enhanced by the addition of a positive-lock/quick-disconnect bayonet coupling mechanism. High shock and vibration resistance is achieved without the need for lock wires, and the connectors are rated for a minimum of 2000 couplings.
The connectors can also be specified with various inserts to meet low-smoke/zero-halogen requirements and provide superior resistance to fuel oils, solvents and elevated temperatures.
In addition to the VEAM CIR and VBN series, PEI-Genesis will also be exhibiting ITT's Trident Multiway series of rugged rack-and-panel connectors. Available exclusively from PEI-Genesis, Trident Multiway offers an extremely reliable, robust and versatile connector system for use in trackside signalling equipment.