PEI Genesis's new robotic assembly plant designed for increased productivity.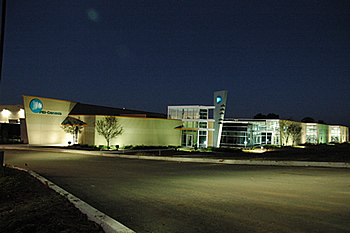 Being the world's largest distributor of ITT-Cannon and Amphenol connectors, demands keeping abreast of 20% annual growth while still producing over 30,000 custom connectors every 24 hours. So, their new facility was architecturally designed from the ground up to support their competitive edge.
PEI-Genesis Chief Operating Officer Russ Dorwart commented, "Our one day production cycle time is by far the best in the world, but we wanted to design a building that would help us to continue to improve our performance. We actually created the building around our flow process instead of simply laying out work cells on a predetermined rectangle. We really pushed the envelope. We buried conveyor systems under the floor to deliver materials as close to point of use a s possible. We reconfigured functions and systems to allow us to do even more parallel processing and we designed the building with expansion in mind."
PEI-Genesis has been growing at over 20% per year for the past four years, so gracefully handling future growth was a key objective. The initial building is 150,000 square feet, but is constructed and situated on the site so that it can expand to 400,000 square feet with parking for over 700 cars.
Site work began August 2006 and the building was completed in August 2007. South Bend architect Philip Panzica of Panzica Building Corporation designed the award winning building and the associated site. The dramatic pre-cast curved walls on the front of the building refer to the round connectors that we produce and is a homage to our old building, next to the airport, which had a sweeping roof line representing an aircraft wing.
PEI-Genesis moved into their new production facility at 4747 W. Cleveland Road in South Bend Indiana over the 2007 Labor Day weekend. The new facility is located 2.8 miles from the old site and retains its perfect proximity to the airport and the UPS and FedEX hubs, both just 2 miles away. The building sits on a 23 acre site that PEI-Genesis purchased in March 2006.
The actual move was done in record time thanks to a great plan and the terrific South Bend workforce. The goal was to move the entire plant over the holiday weekend and be up and running Tuesday morning, September 4. The move was to be done in phases over five days, beginning Thursday morning and ending Monday evening (Labor Day).
This was a big job. We had over 60,000 "bins" of component inventory each 18" x 18" x 8". We also had tons of bulk stock, hundreds of boxes of racked inventory and huge pallets of packaging supplies. The Production Department had dozens of very large pieces of automation, two hundred workstations, two 30 foot long conveyor ovens, hundreds of small delicate pieces of equipment plus all the normal office equipment and computers that you find in any large plant.
Production continued to build and ship product Thursday while the Receiving Department was moved. Our plan turned out to be overly conservative. We finished two days ahead of schedule at 5pm Saturday with everything moved and all of the equipment installed and tested. Monday was a very unexpected Labor Day holiday for everyone. We were producing normally on Tuesday September 4.
Dorwart said, "This is a spectacular building and will enable us to grow as big as our dreams. The building is truly an expression of how proud we are of the South Bend team and everything that they have accomplished over the past several years. The move itself was another demonstration of the fantastic workforce we have in South Bend. A move of this size and complexity had the very real potential for catastrophe, even with a great plan, but the South Bend team actually made it look like fun."
PEI-Genesis is a privately held Value Added Distributor, manufacturer and integrator of electronic connectors based in Philadelphia. PEI-Genesis operates production facilities in South Bend Indiana and Basingstoke England with 16 sales offices throughout North America and Europe. PEI-Genesis has 420 employees and over 13,000 customers worldwide. Sales in Fiscal 2007, which ended August 31, 2007, were $134 million. PEI-Genesis is in the process of building a new UK production facility in Southampton England and expects to move from Basingstoke to their new home in the Spring of 2008.