PEI is now stocking D-Sub Stainless Steel Shells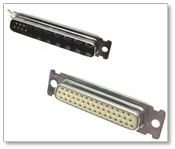 ITT Cannon's stainless steel D-Sub shells meet stringent requirements for corrosion resistance under MIL-Spec "P" grade stainless steel, while also meeting JEDEC standards for RoHS compliance. They are ideal for a variety of applications including telecommunications, marine, aerospace, petrochemical, and pharmaceutical.
The stainless steel shells are available in sizes E, A, B, C and D, including 9 through 50 contact patterns in standard sizes and 15 through 78 contact patterns in high density sizes. Maximum current per contact is 40A. The shells have been tested for continuous exposure to salt spray and corrosive chemicals. Customers ordering stainless steel D-Sub connectors can use the base D-Sub part number and add the modifier "F225" to the end of the part number to specify stainless steel.
Find out more about our ITT Cannon Connector solutions....