Visit PEI-Genesis @ the 2010 Electronica
We are looking forward to meet you! We are located at HALL B3 – STAND 433.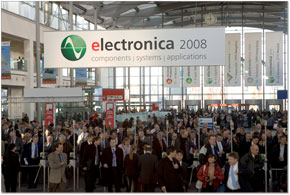 At this year's Electronica exhibition, PEI-Genesis will be highlighting the 48-hour assembly service it offers across a huge range of connectors for harsh-environment applications.
In addition to its extensive portfolio of industrial, military, aerospace and railway connectors, PEI-Genesis will be displaying a recently introduced family of ATEX-approved connectors, which are designed for use in oil and gas exploration, petrochemical plants and fuel storage sites.
By holding a massive $60+ million inventory of connector components and using automated assembly machines, the company is able to assemble connectors to customers' exact specifications and despatch them in less than 48 hours. PEI-Genesis works in close partnership with leading manufacturers of connectors and accessories, including Amphenol Connectors, ITT Cannon (includes VEAM Connectors), Polmaco and Glenair Connectors.
The line-up of ATEX-approved connectors is spearheaded by Amphenol's Amphe-EX series. These are versatile miniature connectors that accept copper, coaxial or fibre-optic contacts and can also be specified with RJ45 or USB inserts for applications such as data acquisition, process control, communications systems and embedded computers.Capable of withstanding the most extreme environments, the Amphe-EX connectors feature machined aluminium components plated with a hard anodic coating for superior resistance to heat, corrosion and scratching. They utilize a double-lead threaded coupling and are IP68-rated to provide maximum protection against the ingress of dust and fluids.