Souriau Shallow Water Immersion (SWIM) Dry Mate Connectors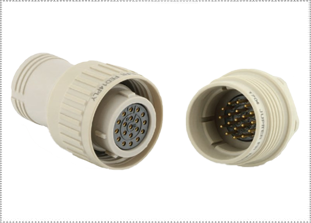 WATERTIGHT CONNECTORS SUBMERSIBLE TO 300 METERS
Souriau SWIM dry mate connectors are designed for shallow water applications, delivering high reliability, durability and watertight protection. The Souriau SWIM (Shallow Water IMmersion) connector series is designed for the most demanding needs and addresses poor sealing or corroded contact issues due to low pressure cycles while providing shell to shell shielding.
The SWIM Series features dry mate sealing technology (directly inspired by the SOURIAU JUPITER connectors) and is easy to mate and unmate, even with high contact density layouts thanks to a robust scoop-proof coupling ring. Insulators are removable which allows for easier wiring, shells and inserts can be stored separately for a flexible insert configuration.
Souriau SWIM connectors are designed for use in tough marine applications with shallow immersion use, such as ocean drones, buoys, small ROVs and commercial diving with no corrosion and no cathodic delamination thanks to their high performance yet cost effective thermoplastic construction.
SOURIAU SUNBANK SWIM Dry Mate Connector Features and Benefits:
High quality PEEK thermoplastic shell
Easy to mate with a high number of contacts
Can withstand shallow water immersion down to 300m / 1000ft.
Capable of withstanding pressures of 30 bars / 430 PSI
Operating temperature range: -20°C to + 70°C